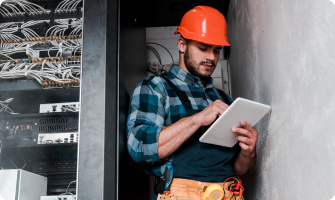 A complete guide to the

Connected Worker
Find out all you need to know about the connected worker and Connected Worker Platforms, two core components of the factory of the future.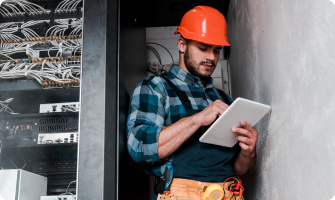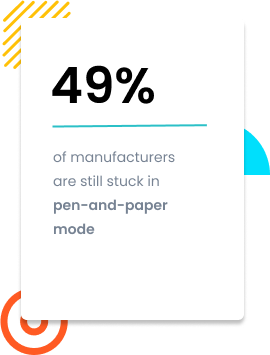 Paper-based procedures and legacy software systems don't cut it anymore in the fast-paced and increasingly complex environment of 21st-century factories. Many manufacturers now recognize the need to reimagine shop floor work to keep up with the demands of modern production.

The operator needs to be at the core of the factory of the future. But future factories require future operators, who handle smart devices instead of paper and interact with their environment using cutting-edge technology.

In short, the so-called connected worker has become a necessity for any organization that wants to tackle the challenges of present-day manufacturing.
What is the Connected Worker in Manufacturing?
Seamlessly immersed in his surroundings on the shop floor, the connected worker — also called the augmented worker — employs a suite of highly advanced digital tools to perform his daily tasks.
These tools are gathered on a mobile-enabled Connected Worker Platform (CWP), a one-stop-shop application that enables operators to do work such as: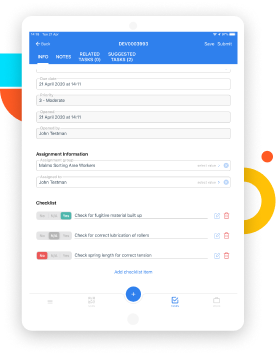 You may be wondering why you need connected worker technology to do these things, as you may already have paper-based or digital tools in place to perform these tasks.
One of the main business cases for Connected Worker Platforms is their ability to replace the immense complexity of modern manufacturing IT system landscapes.
Instead of having a different tool for Task Management, defect/deviation handling, maintenance guidance, and so on, a Connected Worker Platform offers frontline workers a one-stop-shop application for anything they may need during their shift.
"One of the main business cases for Connected Worker Platforms is their ability to replace the immense complexity of modern manufacturing IT system landscapes."
Moreover, Connected Worker Platforms can integrate with irreplaceable systems like MES, ERP, and SAP and enable operators to interact with these systems through the CWPs user-friendly interface.

And there's more!

Let's explore some of the benefits connected worker solutions bring in the areas of productivity, cost-saving, continuous improvement and more.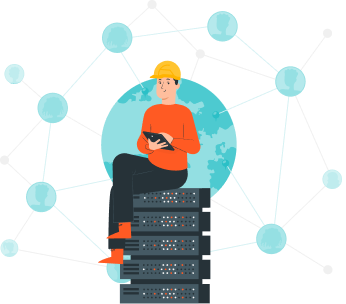 The Benefits: Why 21st-Century Factories Need Connected Workers
Beyond reducing IT complexity in factories, Connected Worker Platforms have a wide range of benefits and business drivers, ranging from productivity and efficiency gains to the improvement of employee safety and satisfaction.
Here are some of the top benefits of connected worker tech:
Upping productivity and efficiency
By digitizing, automating, or eliminating non-value-adding tasks, Connected Worker Platforms boost the productivity of frontline personnel and therefore the efficiency of shop floor operations.
In other words, this major business case of connected worker tech enables manufacturers to do more work with the same number of employees.
Achieving Operational Excellence
Although many companies have operational excellence (OpEx) methodologies in place like IWS and TPM, they lack the right digital tools to implement them successfully and effectively.
The modular and multi-facetted nature of Connected Worker Platforms offers manufacturers a completely end-to-end digital solution to make those ambitious OpEx methodologies a reality.
Closing the skill's gap
With seasoned operators from the babyboomer generation slowly going into retirement, manufacturers risk valuable, decades-long tribal knowledge from leaving their factory.
Connected worker solutions enable manufacturers to easily conserve that knowledge (e.g. with digital work instructions) and use it to educate young or inexperienced operators.
Plus, digital tools in general help to make factory more attractive for a new generation of digital natives, thereby tackling the labor shortage.

Full traceability of performed work
Connected Worker Platforms automatically keep a permanent record of performed shop floor work.
This ensures no vital documentation is ever lost and makes gathering the necessary documentation for an audit tremendously easy.
Food & Beverage and Pharmaceutical manufacturers can especially benefit from this business case (read more).
Creating a Continuous improvement culture
Connected Worker Platforms digitize and upgrade various Lean and CI tools like Kanban boards, Kaizen suggestions, and deviation management.
By embedding these aspects of continuous improvement directly into a share application, CI becomes a routine instead of a habit. Conversely, the instant updating of work instructions, among other things, makes it much easier to implement CI measures.
One platform, countless use cases
1.Digital Work Instructions
Easily create media-rich, interactive digital work instructions with a easy-to-use drag-and-drop builder. Increase productivity, reduce mistakes, and facilitate on the job learning with intuitive step-by-step SOPs, OPLs, and troubleshooting guides.

2.Root Cause Analysis
Create standardized global or local RCA processes. Collaborate on analyses remotely and share results with other plants to profit globally. Assign, manage, and track analyses from a desktop computer.

3.Shift handovers
Ensure the smooth transfer of vital information between shifts. Fill in shift handover reports right on the shop floor—no paper involved. Automate data entry and visualize KPIs on intuitive dashboards.

4.Defect handling
Eliminate manual registration and processing of defects. Register defects straight on the shop floor using smartphones and tablets and increase MTTR. Automatically register all defect-related activities to increase visibility.

5.CIL maintenance
Assign and schedule CIL tasks from a desktop computer. Facilitate easy task execution by adding clear, media-rich instructions. Track KPIs automatically and generate reports with a click.
4Industry's Connected Worker Solution in a nutshell

Frequently Asked Questions about Connected Worker Platforms
What is a Connected Worker Platform?
A Connected Worker Platform (CWP) is a type of manufacturing software that forms the backbone of the so-called connected worker, augmented worker, or connected operator. A CWP gathers all the tools, paper-based procedures, and methods of communication needed for daily shop floor operations on a platform that can be accessed on various (smart) devices.
Leading manufacturers use Connected Worker Platforms to reduce IT system complexity, reduce the number of disparate tools and applications, replace paper-based forms, and increase efficiency and productivity by automating and eliminating repetitive and non-value-adding tasks. Moreover, connected worker technology is seen by many as an essential tool in implementing Manufacturing Excellence frameworks like TPM and IWS.
Connected Worker Platforms support operators by digitizing a variety of workflows like CIL, audits, and shift handovers. Factory directors as well as global and local managers benefit from connected worker tech through things such as dashboards, task planning tools, and collaborative RCA tools.

How do I find the best Connected Worker Solution for my factory?
Finding a suitable Connected Worker Platform for your organization depends on several factors. There are various solutions on the market, some of which are tailored for specific industries, companies (large or small), and use cases.
It is important to check that a solution supports your core use cases, has a roadmap that is aligned with your (future) digitization needs, and is scalable to other plants in your factory network.
To assist you in picking the best connected worker solution, you may find it helpful to consult our free eBook on Implementing a Connected Worker Platform and Maturity Report for Connected Factories.

How do I implement a Connected Worker Platform?
The implementation of a Connected Worker Platform varies per product. Our preferred approach at 4Industry is to start implementing a CWP in a pilot factory with a limited number of modules. If this trial phase is successful, more modules can be added and the CWPs range can be extended to incorporate other factories.
We explore implementation in more detail in our FAQ and eBook on Implementing a Connected Worker Platform.
Is a Connected Worker Platform a replacement for manufacturing systems like MES, ERP, or SCADA?
No, a Connected Worker Platform is not a replacement for existing manufacturing systems like ERP, SCADA, MES or SAP, although it can incorporate some of their functions.
A very useful aspect of connected worker technology is that it can integrate with the above-mentioned systems by exchanging data. The 4Industry platform can, for example, integrate with SAP PM to handle defects. This means that defects can be registered on the 4Industry application, while the resulting work order is still processed through SAP.
See this page for a more detailed and technical overview of typical Connected Worker Platform integrations.
Related Articles