Shift handovers
Improve productivity and efficiency with automation
Allow operators to fill out shift handover reports on mobile devices to ensure the smooth transfer of vital information between shifts.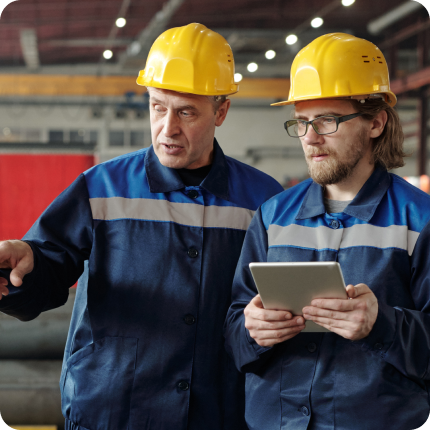 Physical handovers take time… 
To remain competitive in today's market, it's essential to eliminate as many wasteful activities from the shop floor as possible.
And physical shift handovers are a repeat offender, causing many issues due to miscommunications, misunderstandings, human errors, etc.
Manual data entry, cumbersome data analysis, and physically transporting and sorting records take up too much time.
In 2023, paper simply doesn't suffice. Luckily, there's a new meta on the horizon.
…why not shift to digital?
Mobile-enabled Connected Worker software like 4Industry creates a shared central location on which frontline workers can complete their shift handovers.
With 4Industry, you can now forget the hassles of paper and ensure that all vital information is passed on to the next shift.
Handovers can be filled in and accessed anywhere, anytime, eliminating time-wasting trips to remote filing cabinets.
Aditionally, 4Industry automates data entry and enables you to analyze data and visualize KPIs with just a click.
Digital shift handovers in action
4Industry's Smart Forms module enables you to easily create customizable shift handover forms using an intuitive drag-and-drop builder.
Checklists can be automatically assigned to operators. The system tracks their progress and passes the report on to the next shift automatically upon completion.
All data is stored in a central database, allowing any stakeholder, whether local or global, to access, analyze, and visualize it with ease.
The ultimate result? The elimination of wasteful, non-value-adding tasks and improved problem-solving, collaboration, and communication.