Don't take our word for it. Take theirs.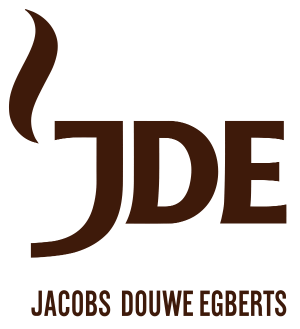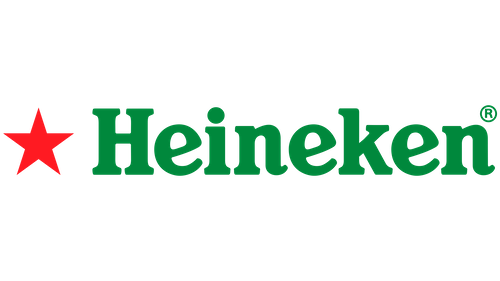 Features for Operator

s
Mobile
4Industry can be used on PCs, tablets and smartphones. The app has a user-friendly design that makes work straightforward and simple for operators. The landing page is customizable and therefore corresponds to the user profile of whoever is logged in.
1. Who
The person that's currently logged in. 4Industry supports quick user switching so you can use the same device fleet across shifts.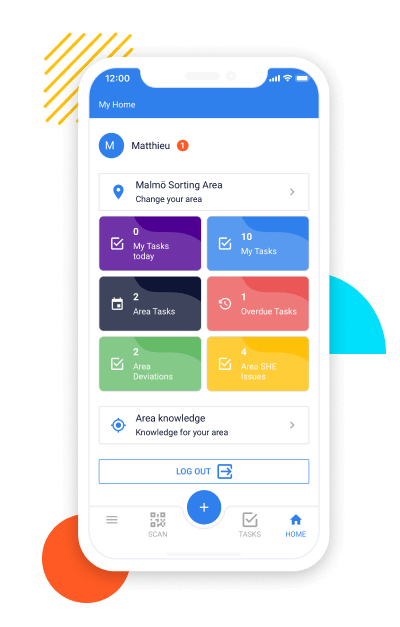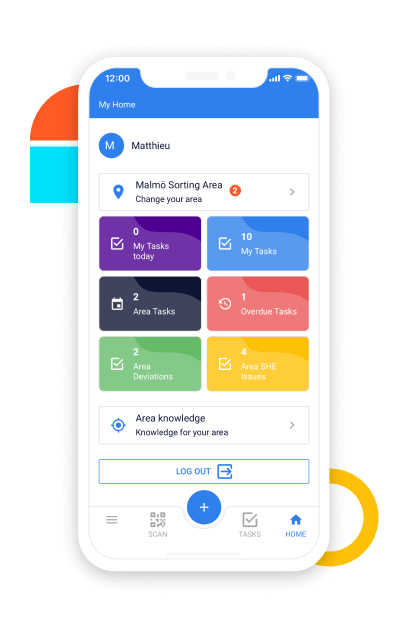 2. Where
Change work areas with the tap of a finger. Data is synchronized based on the active area.
3. Tasks
These cards allow operators to see which tasks are available to them or to their area. Cards can be changed to show other types of records.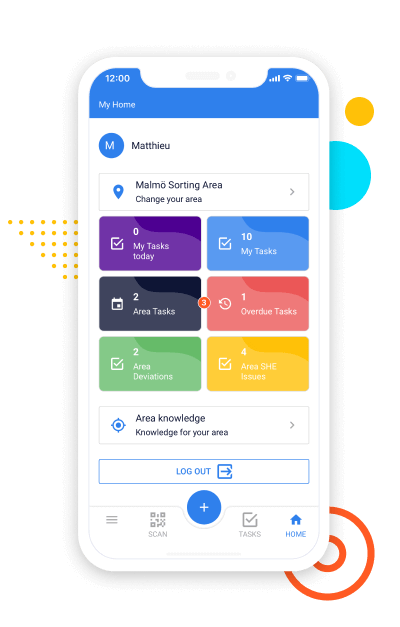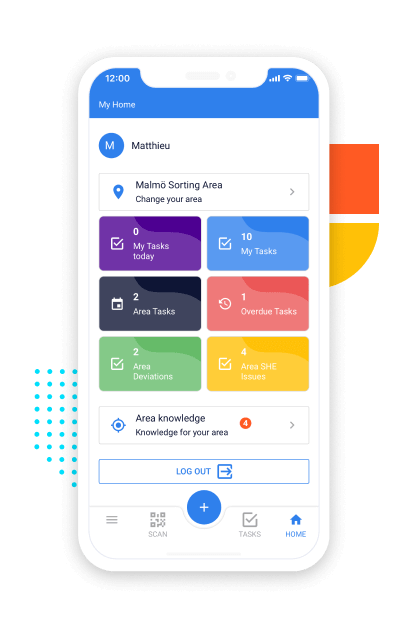 4. Access to knowledge information
4Industry stores a lot of knowledge: manuals, SOPS, troubleshooting guides, etc. Operators usually only need knowledge that relates to the area they're in, which this button leads to.
Offline capabilities
A connected worker platform should, naturally, be continually connected. However, we all know that shopfloor Wi-Fi can be spotty. To combat this, 4Industry has cache so the application also works offline.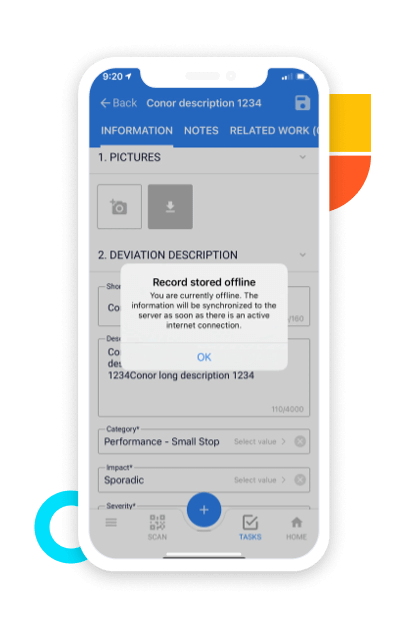 When a device is offline, the user will be notified that data is being stored locally and will be synchronized automatically to the server when connectivity is restored.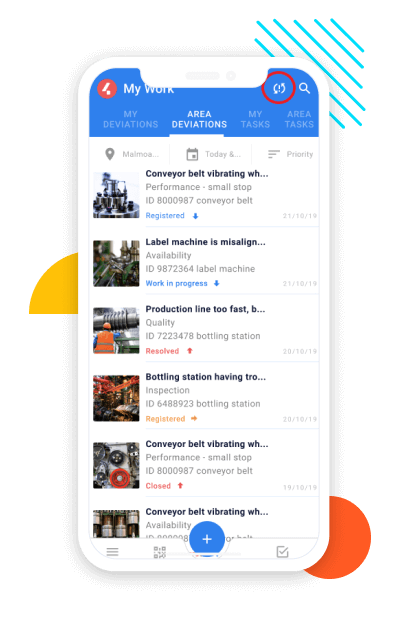 In the list overview, an icon on the upper right of the header bar indicates if 4Industry is offline and not being synchronized to the server.
Deviations
Deviations (also called tags or breakdown records) are used to register when equipment deviates from a defined 'best state.' This can be due to downtime, speed loss, and so on.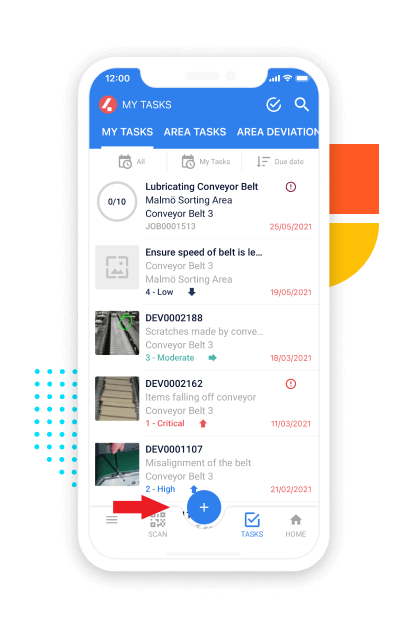 Deviations can be created in 4Industry by using the Floating Action Button (FAB), which is the round button that's visible on the bottom of the screen on every page.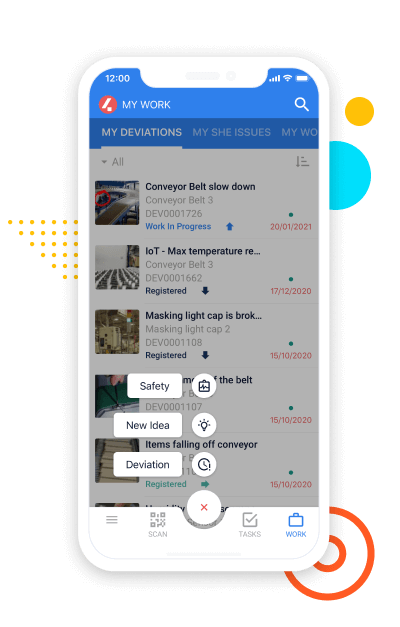 Clicking the FAB opens up a three-option menu. By tapping Deviation, a deviation form is opened consisting of different tabs: Information, Notes, Related Tasks and Suggested Tasks. The Information tab allows operators to add a description, pictures and checklists to the deviation. It's also possible to place the deviation into a category, label it on a scale of severity, add a due date, and much more.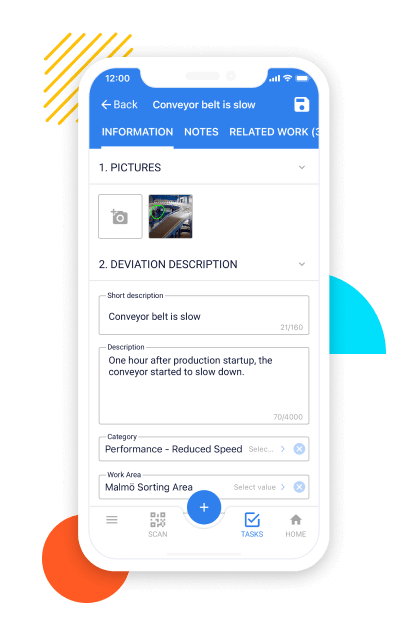 Deviations can be resolved or used to kick off a root cause analysis.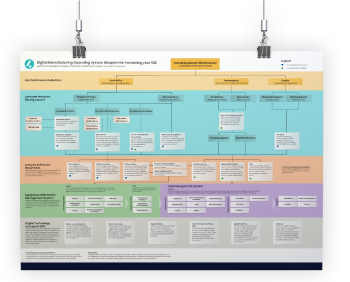 Increase your OEE with our free DMOS blueprint
This blueprint explains how a Digital Manufacturing Operating System (DMOS) – also known as a connected worker platform -, combined with digital technology and manufacturing best practices, can increase OEE in your plants.
Notes
Communication is key in a complex work environment like a factory. However, unstructured communication methods like phone calls and emails make it difficult to track a task's lifecycle.
Communicate remotely
4Industry's Notes function allows workers to communicate with each other remotely.
Operators can ask questions and make notes and comments (2)

Pictures attached to the task are shown in the notes tab (1)

Native speech-to-text capabilities on both iOS and Android, allowing operators to make notes by talking.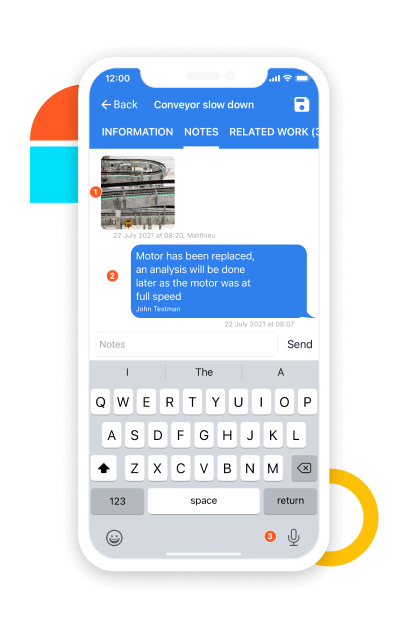 User-friendly mobile forms
Smart Forms is 4Industry's module with which you can create all kinds of digital forms like audits, inspections and checklists. It enables operators to annotate any data entry with comments or images, set follow-up actions, and standardize operations. All straight from their handheld devices.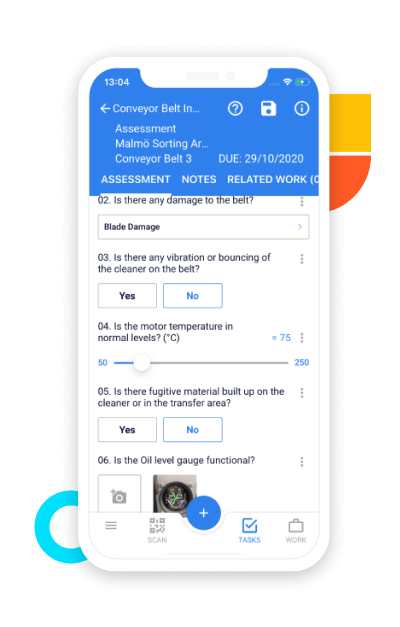 Score calculations
A score can be calculated out of a form's input and trigger configurable workflows, such as notifications. This digital way of working helps increase safety, reduce training and onboarding time, and increase visibility across plants.
Use any kind of input
Forms can be built with any kind of input:
Images

Single-line, multi-line, (multiple) choice, etc.

Scale, number, calculated percentage, etc.

QR and barcode scanning, GPS location, and more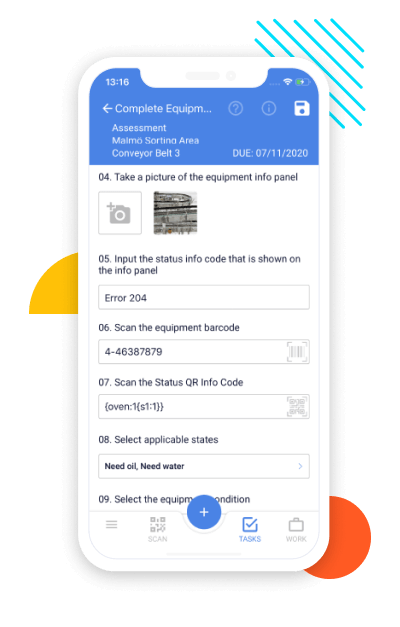 Factories making an impact with 4Industry
Factories around the world have saved millions of dollars by increasing their productivity with us.
150+
Over 150 factories run on our platform worldwide.
20k+
Over 20,000+ people use our platform every day.
<3m
3 Months to go from pilot phase to launch.
2+
2 Major platform releases every year.
Safety features
Because safety is such an important aspect of manufacturing, safety features are built into various areas of 4Industry to increase participation and awareness among all employees.
4Industry has several safety-related modules.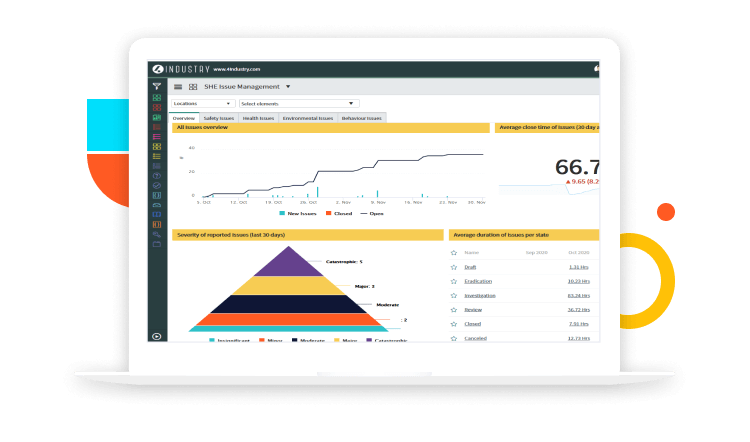 Safety observation
Safety observations can be recorded anywhere in the 4Industry app. As it's very simple and quick to log safety observations, you'll have a much clearer overview of your shop floor's safety situation.
Incident Management
Incidents can be logged in the platform in a compliant, traceable and auditable way. 4Industry facilitates follow-up investigative actions like a root cause analysis to facilitate prevention.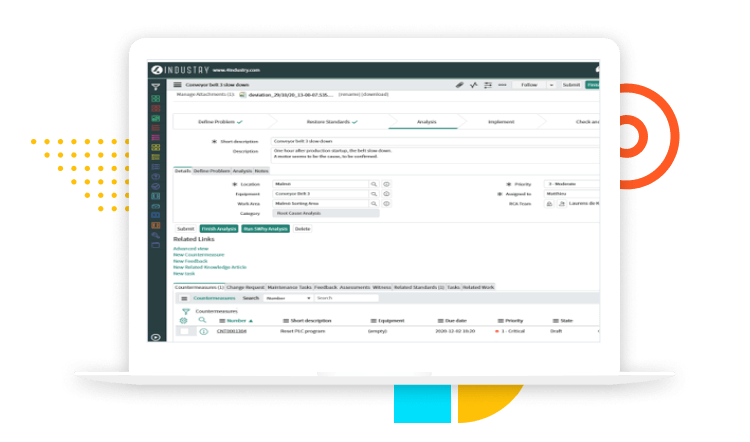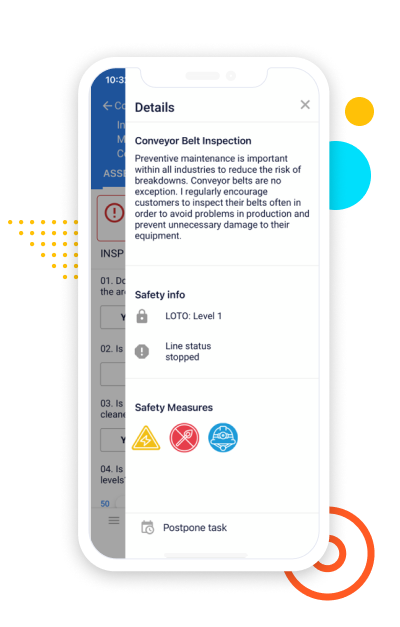 Other Safety Features
Tasks and jobs are linked to safety information like required PPE, line status and LOTO level.
Data-gathering actions like checklists are automatically sent to whoever registers a safety observation

.

Work permits that ensure a safe working environment
Knowledge Base
Every shopfloor employee needs to access all knowledge-related documents like manuals, articles, SOPs and checklists. Everything is stored and categorized in 4Industry's Knowledge Base, which can be accessed by multiple means.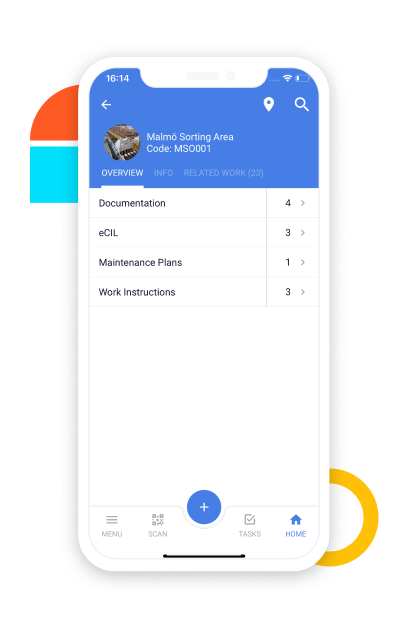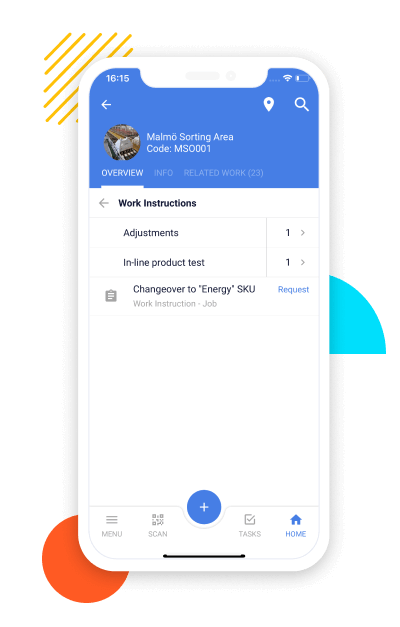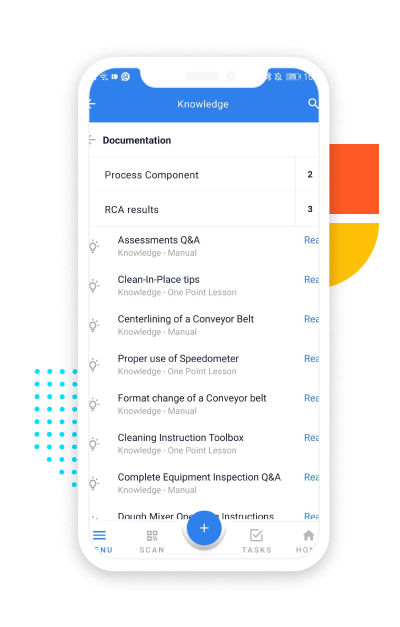 QR code scanning:
QR codes linked to machines can be placed across your factory. Employees can scan these to find knowledge documents related to a machine.

Browsing:
Employees can browse all available knowledge items connected to the work area they are currently in.
Don't take our word for it. Take theirs.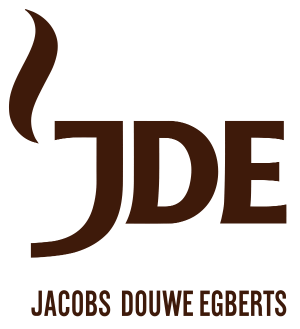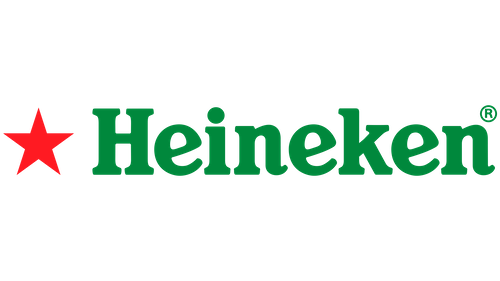 Don't take our word for it. Take theirs.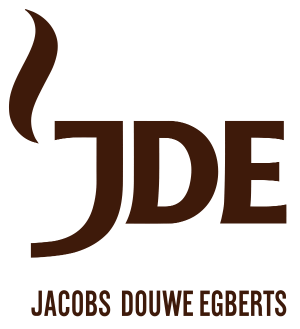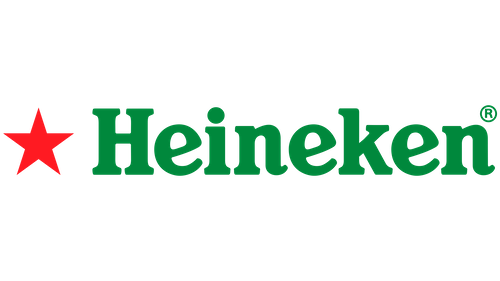 Start improving your factories'

productivity today.