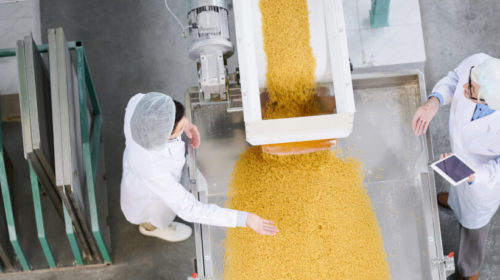 How 4Industry facilitates

HACCP compliance

in manufacturing
In this blog, we explore how a Connected Worker Platform can make HACCP compliance in manufaccturing an easy, smooth, and faultless process.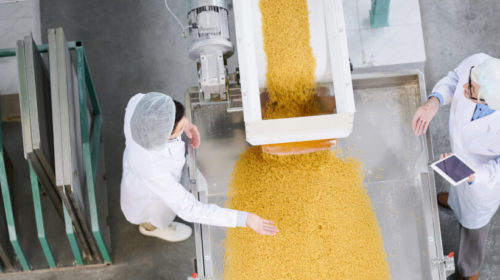 The Centers for Disease Control and Prevention (CDC) estimates that 48 million Americans fall ill every year as a result from foodborne pathogens. A shocking statistic like that only emphasizes the continued importance of standards that improve food safety in manufacturing like HACCP and HARPC.
Complying with government-enforced regulations is, however, often a difficult task for manufacturers.
The necessary documentation to prove compliance easily gets lost or is filled in incorrectly, causing difficulties when it's time for an audit.
Luckily, there's a digital solution available that can make food-safety compliance a smooth and easy process.
Let's explore how a Connected Worker Platform like 4Industry can help manufacturers achieve first-rate HACCP compliance.
What is HACCP?
HACCP is a food manufacturing standard that helps prevent food products from containing health hazards. It is a set of principles that implement checks and balances in the production process to guarantee that end-products don't pose a risk to the people (or animals) that consume them.
HACCP is an acronym for Hazard Analysis and Critical Control Points.
The concept originates in the early 1950s, when NASA approached the Pillsbury Company to develop hazard-free food products suitable for space missions.
Since then, the technique has become an internationally recognized standard and, in many cases, a regulatory requirement.
What are the 7 principles of HACCP?
As said above, the prevention of hazards—rather than the testing and inspection of end-products—is at the core of HACCP.
The following 7 principles were set up to facilitate the creation of HACCP plans.
1. Do a hazard analysis
A hazard analysis involves listing all the points in a manufacturing process that could prove to be hazardous to food safety. This isn't always done by internal experts: manufacturers often hire an external expert or expert group to do it.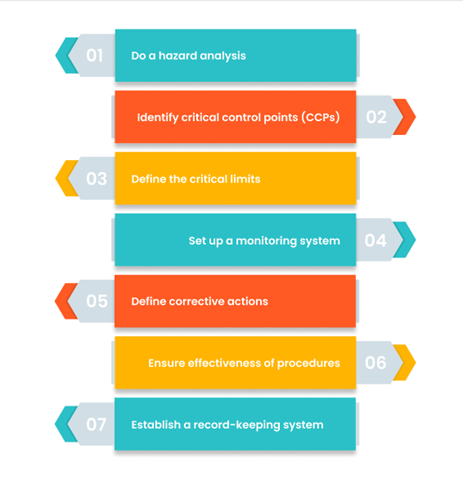 2. Identify critical control points (CCPs)
After pinning down all possible hazards, it's necessary to define critical control points (CCPs). These are points in the overall process in which preventive measures have to be taken to mitigate or eliminate a hazard.
3. Define the critical limits
CCPs come with critical limits that are used to determine if the hazards at a CCP are sufficiently controlled. These are often specific values, like a certain temperature or pH level.
4. Set up a monitoring system
Exceeding a critical limit could pose significant risk to the food safety. For this reason, a monitoring system has to be set up that observes if the value of a critical limit is within bounds.
5. Define corrective actions
In case a critical limit is exceeded, corrective actions have to be in place to ensure that products containing a hazard are disposed of and do not leave the factory.
Additionally, corrective actions include those that ensure a problem does not recur in the future.
6. Ensure the effectiveness of procedures
This principle ensures that your HACCP plan continues to have the desired effect. Regular checks could, for example, be established to verify that the monitoring system is working correctly, corrective actions are effective, and so on.
7. Establish a record-keeping system
Lastly, records should be kept that prove that food was produced in the correct way. This is often a regulatory requirement and it's therefore subject to government audits.
What is HARPC?
Hazard Analysis and Risk-based Preventive Controls (HARPC) is another food-safety standard.
Although it's sometimes used synonymously with HACCP, this is a mistake.
Contrary to the globally practised HACCP, HARPC is exclusive to the US, originating in the FDA Food Safety Modernization Act (FSMA) of 2010.
What is the difference between HACCP and HARPC?
The two are similar in a lot of aspects: prevention, for example, is at the core of both.
The difference between the two is subtle: HACCP is focused on contaminant risks, whereas HARPC has a much larger scope, even including intentional acts of wrongdoing like terrorism.
Why paper makes food-safety compliance difficult
Let's run through the main difficulties that come with maintaining an HACCP plan and preparing for audits.
1. Adhering to a HACCP plan
Operators need to comply with a factory's HACCP plan year-round, but when work instructions exist on paper, the chance of someone making a mistake is significant. Paper instructions are furthermore difficult to update, and it's therefore easy for an operator to work according to outdated instructions.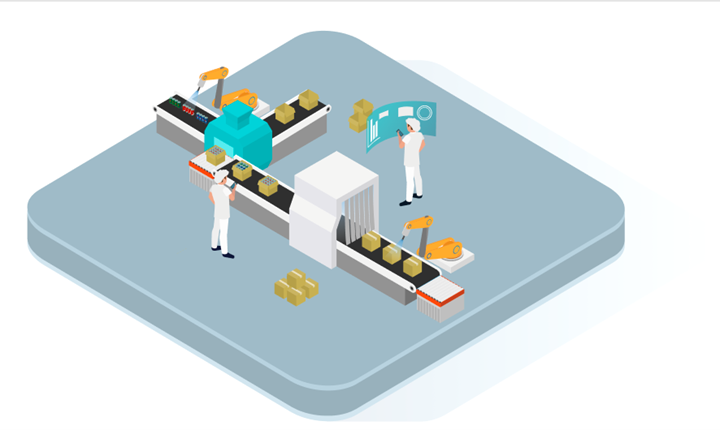 2. Collecting and storing data
Filling in a checklist or audit form with a pen is obviously not ideal, as someone can easily note down incorrect data or forget to put down a signature. This can cause problems at an audit.
Storage is another hassle: Binders filled with paperwork pile up in large filing cabinets, which progressively become more difficult to search.
3. Corrective and preventive actions (CAPAs)
When a CCP's critical limit is surpassed or another type of risk is spotted, an operator has to look up or ask for the appropriate CAPA to execute.
As this isn't an automated process, it can take a while for a problem to be dealt with.
How 4Industry enables first-rate HACCP compliance
4Industry's Connected Worker Platform is tailor-made to help Food & Beverage manufacturers meet HACCP/HARPC compliance standards in their factories.
It all comes down to the way its Task Management Module is designed: At its core, namely, lies the principle that operators should always know where, when, and how to do something.
Let's say machine X has to be updated to produce article A instead of article B.
4Industry allows you to create an automated workflow for this that contains all the information operators need to execute a particular procedure.
Practically, this entails that they'll receive a notification on their handheld smart device telling them to go to machine X (where) at a particular time (when) and update it with the appropriate settings (how).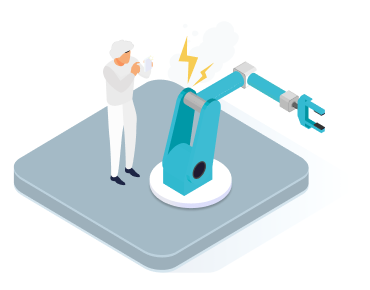 Setting up a machine properly is obviously an important part of HACCP compliance.
This is, however, the subject of a future blog— for now, we'll explore the uses of 4Industry's Assessment Module.
HACCP and other regulatory standards compel manufacturers to produce their articles in a certain way.
This may, for example, entail that an operator can't adjust a machine without having a valid reason.
Furthermore, manufacturers must be able to check – and later on, prove – that everything on the shop floor goes according to standards.
This is where audits come in.
Compliance has never been easier
4Industry's Assessment Module allows you to easily create a dedicated HACCP audit, which you can then schedule and assign to operators. The results of audits are automatically stored in a digital logbook, which can presented to auditors when necessary.
The beauty of this is that you always have the correct(!) data needed for an HACCP inspection within reach, so you don't have to worry about anything getting lost in a messy filing cabinet or unstructured digital archive.
Instead, everything an auditor needs can be neatly presented to him/her without any hassle.
Related Articles