Continuous improvement (CI) is the backbone of any successful manufacturing operation. This ongoing process, which involves searching for and resolving defects, deviations, and other issues within a plant, can incorporate a variety of standardized techniques—from total predictive maintenance (TPM) activities to lean manufacturing strategies.
While CI is nothing new, it can be difficult to truly unlock all its potential for your organization using manual, pen-and-paper processes, which have their limits. On the other hand, rolling up these processes into a digital manufacturing operating system (MOS) can take your CI efforts to the next level, enabling you to more effectively define and monitor your operations, manage deviations, streamline new idea creation, and much more.
Here are five ways digital MOS platforms like 4Industry improve your Continuous Improvement efforts:
1. Define the operating norm using performance feedback
Digital MOS platforms connect to Internet of Things (IoT) sensors and other smart devices within the factory. Using machine learning, it learns when operations are abnormal and can predict when a breakdown is imminent.
2. Manage breakdowns more efficiently
If a breakdown does occur, digital MOS platforms include deviation management modules that let workers easily register, keep track of and manage the issue. After registering a deviation, the platform even proposes countermeasures based on historical data and a centralized knowledge base, which includes all knowledge articles and documents within an organization, from Standard Operating Procedures (SOP) to maintenance checklists. 4Industry, for example, uses a Machine Learning model to learn from past deviations and suggest most appropriate actions.
Once someone registers a deviation, you can create a Root Cause Analysis (RCA) directly from the record or assign maintenance tasks directly to workers using digital task management processes. Assigned jobs, which are displayed on the mobile interface, include interactive inputs, relevant knowledge articles, required tools, safety information and much more, enabling the assigned worker to get the job done quickly, safely and efficiently.
---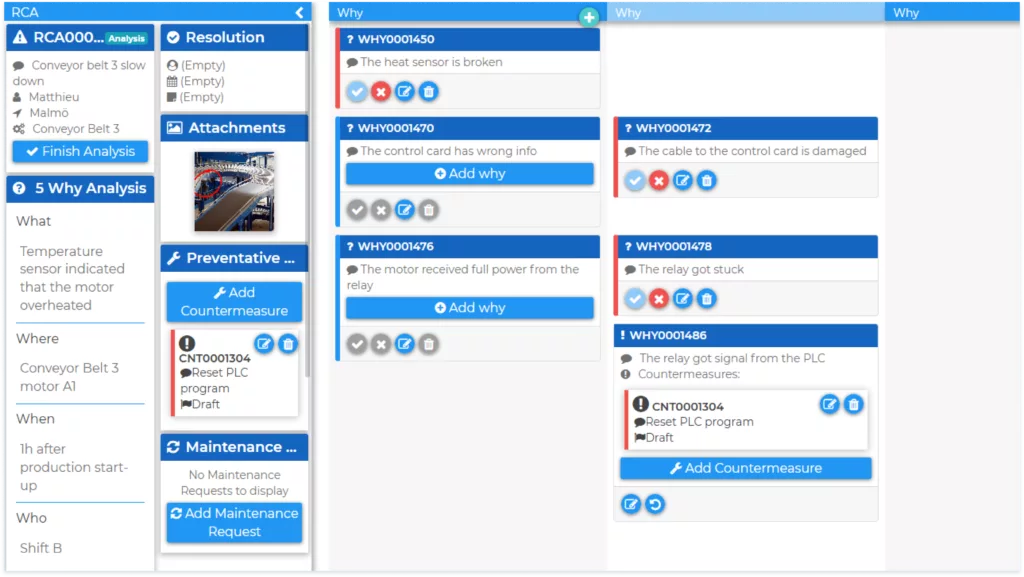 3. Drive the Continuous Improvement of your safety measures
A single database makes it easier to understand why and where things go wrong. Digital MOS systems like 4Industry enable you to plan Continuous Improvement activities or improve current safety procedures within the environment, health, and safety (EHS) management module. For example:
Receive alerts when an observation or incident is made during an assessment or task.
Improve EHS performance using the collected data.
Mitigate risks by capturing data from audits like hazard and operability (HAZOP) studies and store the information for future use.
4. Streamline new idea creation
Digital MOS platforms, which are accessible from any smart device, make it easy for any stakeholder within an organization to register new ideas. For this reason, unlike the sporadic Kaizen meeting or forgotten suggestion box, digital systems remove the friction that comes with submitting, managing, and fast-tracking continuous improvement solutions.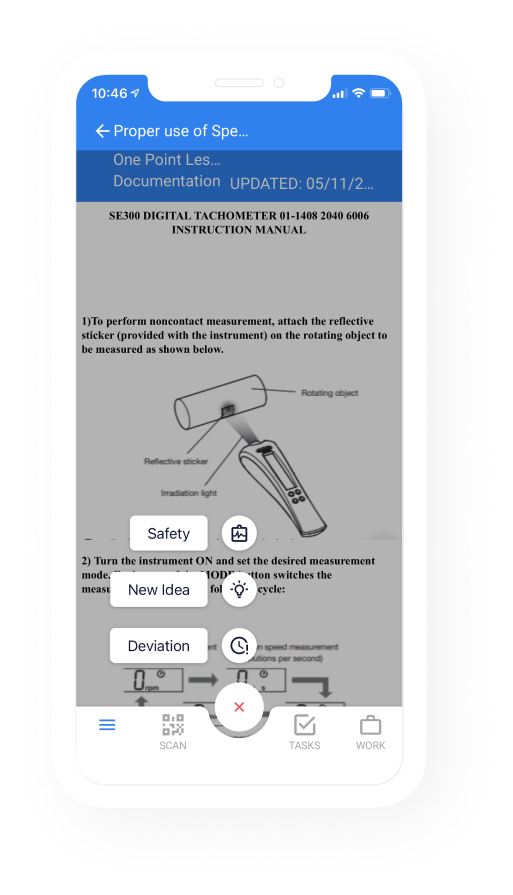 5. Implement Lean Manufacturing techniques
In the spirit of Continuous Improvement, many digital MOS platforms feature lean manufacturing-based tools and strategies directly within the application. For example, 4Industry features several tools that help users visualize lean-based techniques. It includes digital Kanban boards that visualize tasks in a single overview. These boards come with a drag-and-drop feature so you can easily prioritize and assign tasks to workers, manage works in progress, and report on any progress. 4Industry also offers Obeya boards, which give operators and supervisors access to all relevant data and dashboards that are depicted in a user-friendly, interpretable way.