OEE


Availability × Performance × Quality
Correlation OEE ↔

TPM
There's also a clear correlation between OEE, other production KPIs and the Six Big Losses defined by TPM.
| Overall Equipment Effectiveness | Six Big Losses (TPM) |
| --- | --- |
| Availability Loss | Unplanned Stops |
| | Planned Stops |
| Performance Loss | Small Stops |
| | Slow Cycles |
| Quality Loss | Production Rejects |
| | Startup Rejects |
Need a blueprint to improve your OEE?
Download our Digital Manufacturing Operating System Blueprint for increasing your OEE!
What is considered a Typical OEE?
How to improve your OEE in line with TPM
Let's connect the eight TPM pillars to the three OEE indicators (Availability, Performance & Quality) in terms of the 6 Big Losses in TPM and see how they are related.
Availability
This OEE indicator is related to the well-known TPM pillar Autonomous Maintenance. By empowering your operators to perform their jobs independently, you can reduce unplanned stops (breakdown time).

A mobile-enabled Knowledge Management system that is accessible anytime, anywhere on the shop floor helps resolve breakdowns faster. And above all: once a breakdown is detected, suggested solutions and checklists automatically pop up to save the operator time.
Long planned stops (changeovers, etc.) cause downtime on production lines, affecting your OEE. Correct and complete digital Standard Operating Procedures (SOPs) can help you limit this downtime to a minimum. Digital SOPs can be made even more intuitive and interactive by annotating them with images and videos.

Sometimes, a deep analysis needs to be performed on breakdowns or long changeovers. This falls under the TPM pillar Focused Improvement.

Best practice is to perform a deep analysis with workers that know the equipment inside out. However, these workers are sometimes located abroad. A digital Root Cause Analysis methodology tool in real-time helps local engineering teams to share knowledge with global teams or even equipment vendors.
Performance
Small stops are usually too short to register and they are difficult to track if your OEE reporting is paper-based. This is often caused by legacy equipment. The TPM pillar Early Equipment Management helps you replace equipment in time to avoid this.

By registering all assets (equipment and tools), you can visualize how machines are interconnected. This makes it easier to choose new equipment and helps you involve the right people from the start. Want to monitor progress? Use Task Management tooling.
Depending on the manufacturing process, slow cycles can also be hard to detect. Fortunately, connected sensors and IIoT can now pick up a deviation from the baseline. From there, a connection can be made to automatically create a task and notify the right people (read more here).
Proper Planned Maintenance of equipment can also help to reduce performance losses. Analyze data from your equipment database and past incidents to pinpoint maintenance focus areas. IIoT sensors on your most critical equipment can help you monitor these incidents.
Quality
The TPM pillar Quality Maintenance follows the principle of getting production right the first time, thus reducing production and startup rejects. But, in the heat of the production, an hourly center lining check procedure could be forgotten, or a small step skipped by accident during a machine startup process. Mishaps like these can lead to subpar product quality, costing a plant both time and raw materials.
What you need here is a digital Task Management tool that allows you to easily schedule planned checkups like CIL (Clean, Inspect, Lubricate). When a task is due, all relevant workers are notified, helping them resolve the issue faster.

Support workers in executing their tasks too with e.g. digital forms. These aid an operator in completing each procedure correctly because of its step-by-step instructions accompanied by images or videos.

Such instructions also provide novice operators more confidence in performing their jobs. They have instant access to all necessary information. Experienced operators can easily share their knowledge by creating knowledge articles.
Other TPM Pillars to Improve Your OEE
There are other TPM pillars that indirectly help you improve your OEE too. These are:
Training & Education
This pillar is aimed at helping workers understand the TPM methodology and how to apply it. For example, an operator may need certain skills or certifications to be able to perform specific Autonomous Maintenance tasks. Therefore, you will need to integrate a Learning Management System (LMS) to enable operators to acquire the right skills and certifications.
Office
The shop floor is one of the key components of a factory, but not the only one. The Office pillar makes sure that the administrative and support function of the organization is in line with TPM principles too.
Environment, Health & Safety (EHS)
All above pillars should not come at the cost of Environment, Health & Safety. Workers must be in a safe environment with countermeasures in place to manage unsafe conditions. This can be enforced by the use of Safe Work Permits, but also by making sure SOPs are reviewed and approved.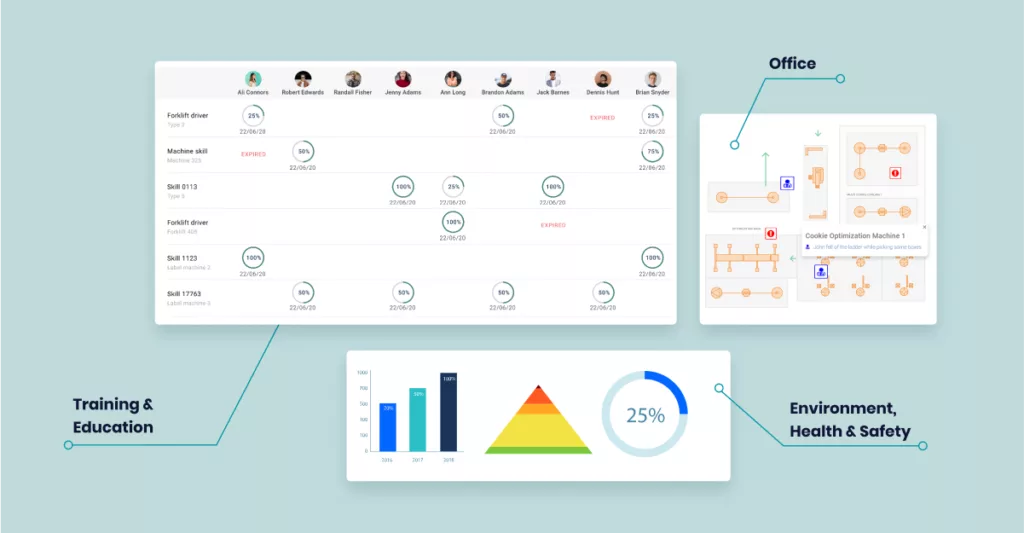 News & blogs
Read our latest blogs