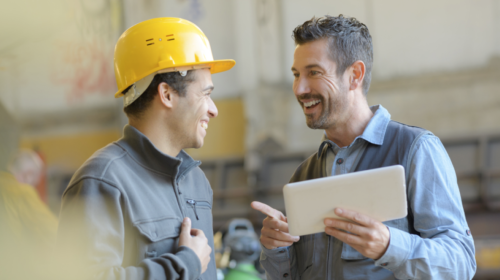 5 Indispensable

Continuous Improvement

tools and techniques
Continuous improvement tools are an important part of manufacturing. They help improve factory processes in a structured and efficient manner.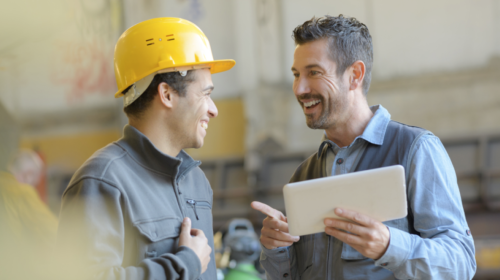 Continuous improvement (CI) is an ongoing effort that aims to incrementally improve factory processes, thereby optimizing uptime and efficiency. Although focusing on continuous improvement in your factories is undoubtedly beneficial to the overall improvement of operations, going about it in an unsystematic way can be inefficient, as you might not be targeting your biggest losses.
Continuous improvement tools and techniques help you do exactly that; they assist you in making the CI process structured, fast, and effective. There are multiple options to pick from, and choosing the right one can therefore be difficult, as it is easy to get lost in details and not see the forest for the trees.
In this blog, we'll explore our five favorite continuous improvement tools.
W

h

a

t

are continuous improvement tools?
Continuous improvement tools and techniques are actionable methods that help you detect and improve wasteful practices in your factory. They form a key part of lean manufacturing and are therefore used by many manufacturers to improve performance, efficiency, safety, and quality in their factories.
1. Kaize

n events
A Kaizen event is a brainstorming session where operators and other factory employees can share their perspective on improving a process. The great thing about Kaizen is that its success depends on the involvement of a wide variety of people, ranging from upper management to maintenance and machine operators. A problem is thereby encapsulated in its fulness, making it clear what steps could be undertaken toward an improvement.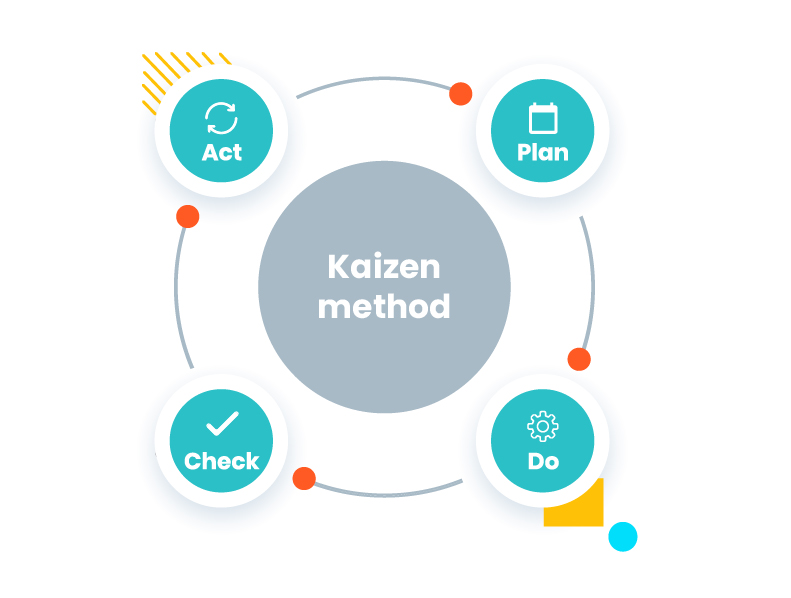 The technique that is used at Kaizen events is called the PDCA cycle (also known as the Shewhart or Deming cycle), which consists of four steps:
Plan: define the goal as well as the actions to be taken toward its achievement
Do: perform the measures from the previous step
Check: evaluate the results
Act/adjust: implement a solution
Gradually, the composition of the people involved in Kaizen sessions will change. It might turn out that a problem has to do with a machine, making the involvement of some people redundant and necessitating the expertise of, for example, a technical specialist.
✓

Kaizen Pros:
Very structured method for technical fields
Involves a diverse set of people
Works well for small to medium-sized problems
Results can be standardized and shared across plants
✗

Kaizen Cons:
Can't be used when doing investigative research
Doesn't work well for larger problems
2. The 4Ms
The 4Ms method is used to prevent tackling a problem in a haphazard way. There are different kinds of losses in a factory, and it is not always apparent what cause underlies them. There might be an issue with the packaging material but the cause could just as well have to do with the machinery.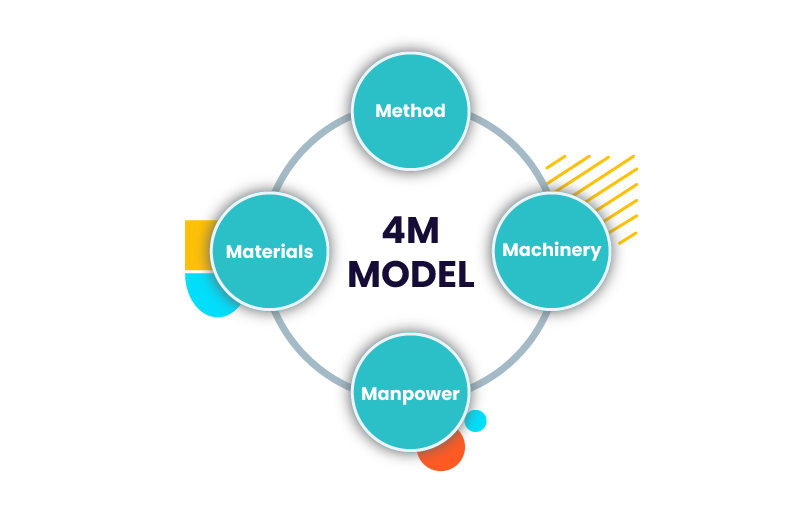 This continuous improvement tool gathers information about an issue by dividing it into four categories: manpower, machinery, materials, and method. A brainstorming session can then be organized in which operators pitch ideas about possible causes. These ideas are entered under their respective categories, creating a concrete visual representation of the problem at hand.
✓

The 4Ms Pros:
Facilitates brainstorming about complex problems
Categorical way of thinking about possible causes
✗

The 4Ms Cons:
Can only be used in factories
Not an entire solution, but part of a larger process
3. Spaghetti Diagram
The Spaghetti Diagram helps improve processes on the factory floor by tracking the movement of operators. You can easily make a Spaghetti Diagram using a pen and paper, although a tablet device can also be used. This method consists of observing operators while they work and drawing their movements on a map.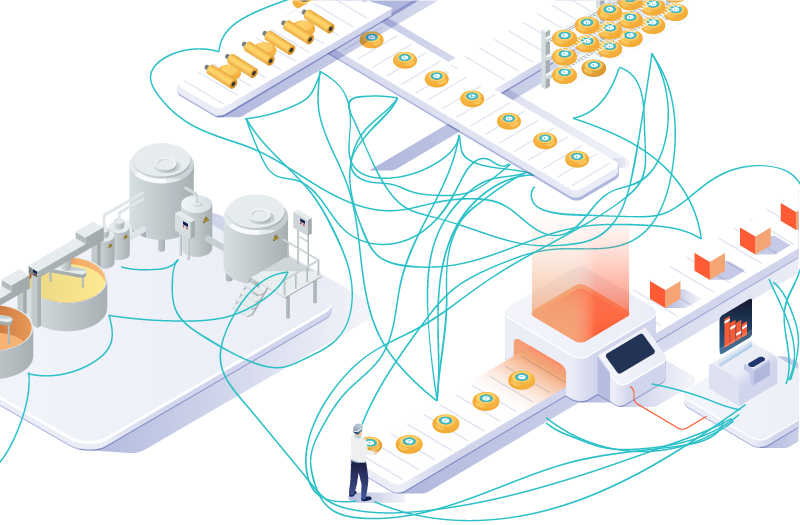 You can then see how many times a worker is at a machine, which path they took to that machine, and so on. Managers can consequently use the Spaghetti Diagram to think about streamlining the way in which work is done on the factory floor. The great thing about this method is that you can reuse it to view the effected improvements.
✓

Spaghetti Diagram Pros:
Easy-to-use
Creates a visual overview of possible issues
✗

Spaghetti Diagram Cons:
Can only be used to track physical movement
4. SMED
SMED (Single-minute exchange of dies) is a continuous improvement tool that helps reduce the amount of downtime during a changeover. By surveying all the activities during and outside of downtime (so-called internal and external activities), a path is opened by which you can apply improvements. Certain internal activities can possibly be changed into external activities, resulting in less downtime.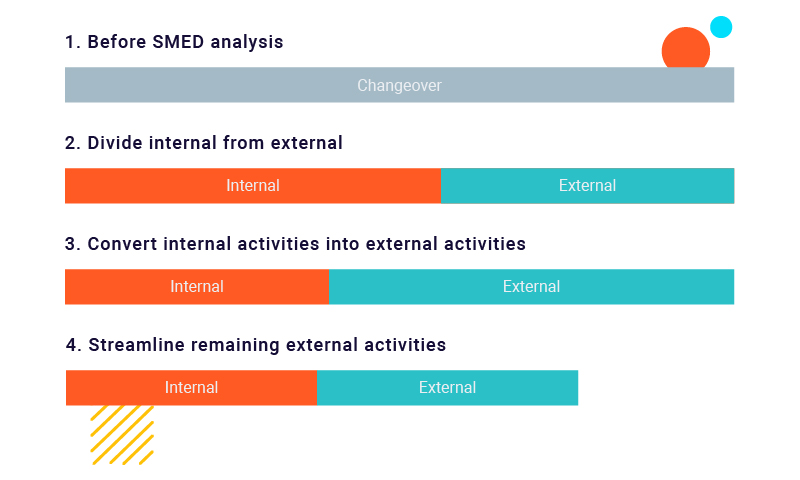 A SMED can be performed by following these steps:
Identify all activities within a certain area
Divide internal from external elements
Convert internal activities into external activities
Streamline the remaining external activities
Before applying this method, you need to make sure that a changeover is causing a significant number of losses. One way to figure this out is by using a Root Cause Analysis tool like the Pareto Chart. If changeovers aren't causing losses, it is better to not apply this method.
---
✓

SMED Pros:
Reduction of downtime, changeover time, and money-loss
✗

SMED Cons:
Using this method can be time-consuming, as there are lots of sub-activities to improve
Only applicable if changeovers cause significant losses
5. Gemba Walks
Gemba walks are an integral part of lean management. This continuous improvement tool comprises of a manager or director walking around the factory to ask workers about the problems relating to their work. Gemba walks are performed using a checklist, but can be intuitively done as one becomes experienced doing them.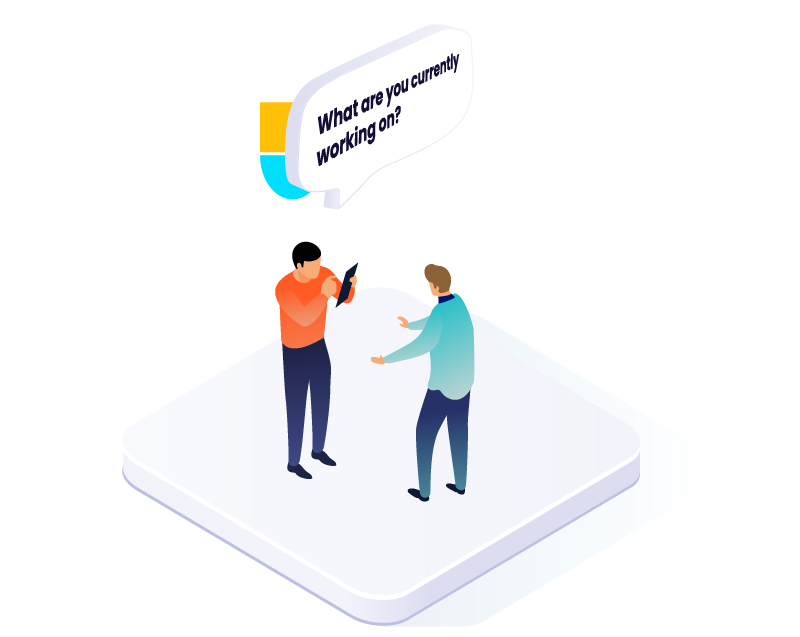 Operators might be wasting time by working in a certain way, or, on the contrary, be more efficient by diverting from instructions. Managers can take this information into account and take steps toward implementing an improvement. It is important that operators not be approached in a confrontational but rather in a cooperative manner. This way, workers feel heard by management, and the connection between the two is strengthened.
✓

Gemba Walks Pros:
Improves communication between operators and upper management
Keeps upper management in touch with what's happening on the factory floor
✗

Gemba Walks Cons:
Can be easily forgotten to do
Related Articles