How a Connected Worker Platform Enhances

One Point Lessons
Discover all you need to know about one point lessons (OPLs): short, visual documents that teach operators to perform a specific action.
One point lessons (OPLs)—sometimes called single point lessons—are visually rich and concisely written documents that teach operators how to perform a specific action. OPLs are quick to create and easy to consume, and are therefore a much-loved and often-used instruction format in factories.
In this blog, we'll explore everything you need to know about one point lessons, starting with a detailed definition and ending with tips on how you can get the most out of OPLs by digitalizing them with a Connected Worker Platform.
Let's dig in.
What are one point lessons (OPLs)?
One point lessons (OPLs) are short, visual instructions that guide frontline workers on how to perform a single, relatively small action or task.
OPLs are closely related to standard operating procedures (SOPs), but the two should not be confused.
Where SOPs can be long, text-heavy documents, one point lessons have the following characteristics:
Short: an OPL is usually only a single page and creating one should take one hour max.
Visual: OPLs contain lots of images (the rule is 90% images, 10% text)
Focused: OPLs are limited to a single action or task. It can therefore be a part of an SOP, clarifying one of its steps.
In short, an OPL should be simple, concise, and precise, so that operators can put its guidelines into practice effortlessly.
As OPLs deal with very specific actions, they should also be easy to find.
They should, for example, be hung near the areas they apply to or be categorized according to a machine's error codes.
Looking for information on SOPs instead of OPLs? We've got you covered. Check out this blog for everything you need to know about SOPs!
Use cases for one point lessons
One point lessons can have several purposes and be used in any part of manufacturing, like continuous improvement, lean, and TPM (specifically autonomous maintenance).
Here are the main use cases for OPLs.

Troubleshooting
OPLs are used in troubleshooting to find the answer to defects, breakdowns, and other types of issues.
If a machine's display, for example, alerts an operator that Error 202 has occurred, the operator can refer to OPL 202 to find information on how to fix the error.
In these types of situations, OPLs are ideal for finding and applying a quick fix to a problem.
Quality
One point lessons are a great way of instructing operators how to correctly perform quality procedures.
One of our customers, for example, uses a digital OPL with a short, 5-second video explaining how their operators should check if their product is packaged correctly.
Although they are very short and simple, these kinds of OPLs play a big part in ensuring top product quality.
Procedures
OPLs about procedures are focused on giving operators the knowledge to perform shop floor procedures correctly.
There are one point lessons teaching operators how to drive a forklift, use a piece of equipment, perform a CIL activity, and so on.
This type of OPL is an important part of autonomous maintenance.
Safety
OPLs are ideal to give operators quick instructions on the safety procedures they have to follow before entering an area or performing a certain activity.
Example of a one point lesson
Below, you can find an example of what the average OPL looks like.
This one point lesson template can naturally be adapted to the requirements of different factories.
As you can see, its design is tailored toward the visual, containing two large squares that represent a good and not-so-good situation.
The rectangle at the bottom contains space for a textual elucidation of the images; the length of this can range from a single sentence to a few short paragraphs.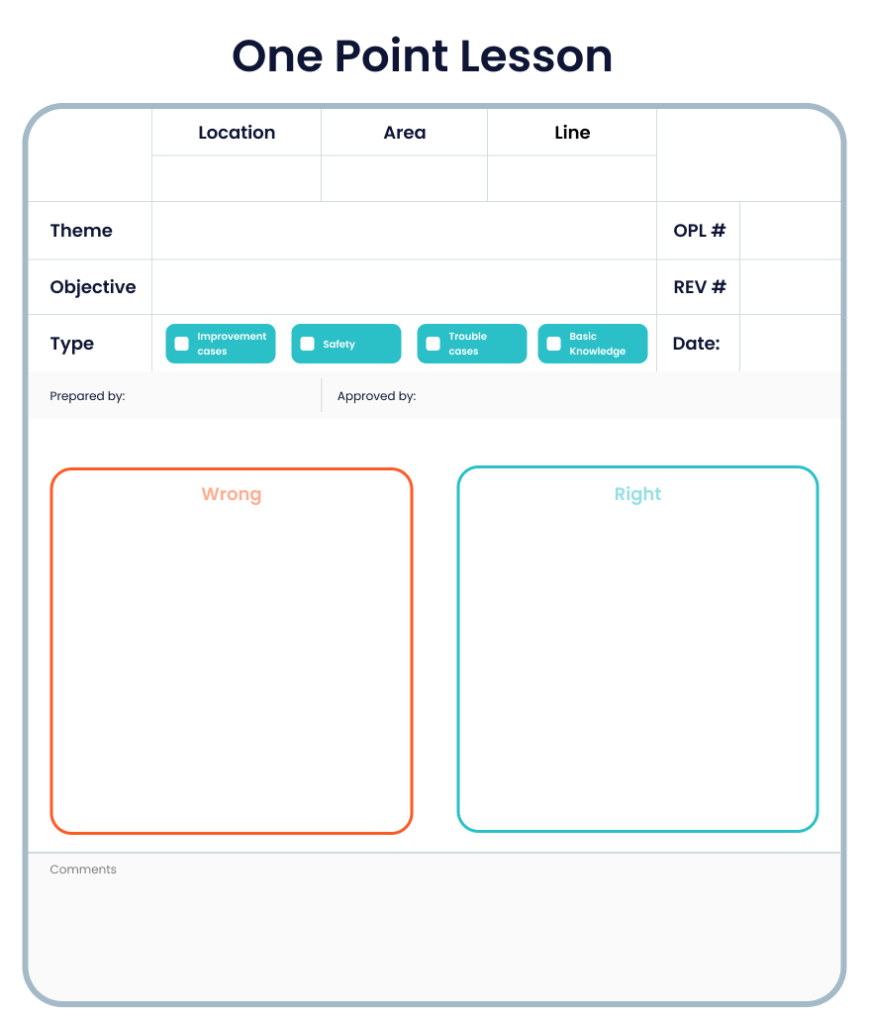 Lastly, the top of the OPL contains fields for the purpose of categorization and compliance.
They state the goal, area, number, and type of the OPL, and show that it has been approved for use.
How to make a one point lesson
One point lessons are usually created in Excel or Word and stored on shared disks, Sharepoint, binders, and the like.
Often, they are distributed on paper.
However, with the onset of connected worker software, a lot of those manual actions that go with these systems have been streamlined and automated.
Thus, creating, organizing, and browsing OPLs has become much easier.
Let's explore how an OPL is created in a 4Industry's Connected Worker Platform.
To start off, OPL templates are designed in a template builder and then standardized on a local and/or global level.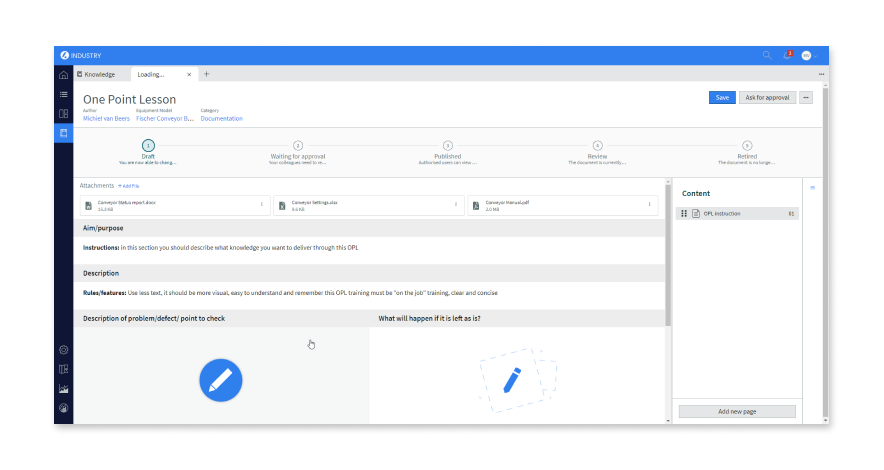 Once the template is ready, operators are able to create OPLs using an intuitive desktop builder.
When all required fields of the OPL are filled in, it can be sent over to someone—usually the person responsible for the area the OPL applies to—for review and approval.
How a Connected Worker Platform enhances OPLs
The great thing about Connected Worker Platforms is that they significantly improve the creation, approval, storage, and distribution of one point lessons.
We've already detailed how simple it is to create OPLs, and the same goes for OPL templates.
Both are intuitive and easy to learn, enabling operators—whether tech-savvy or not—to effortlessly create what they want.
OPLs can be standardized in an organization's global network of factories, facilitating easy knowledge sharing and turning local solutions into global best practices.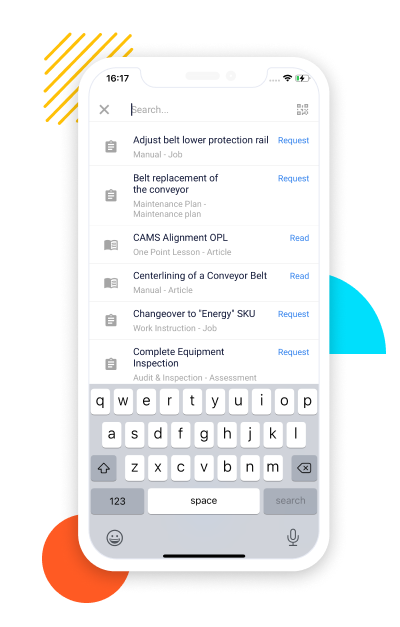 Review and approval flows are completely automated. This isn't only more structured and time-efficient than doing it e.g. through email, it's also important for regulatory compliance.
4Industry's central database, for example, tracks who has created, approved, and edited one point lessons, thereby facilitating ISO 9001 and GMP compliance.
Furthermore, it guarantees that operators always use OPL versions that are up to date.
Lastly, machine learning technology can connect OPLs to deviations, breakdowns, and other errors.
This means that when a certain error occurs, the appropriate OPL is automatically suggested to operators, allowing them to fix the issue at hand much quicker.
The benefits of digitalized OPLs
In short, these are the benefits of one point lessons.
Easier to create templates due to a drag-and-drop editor
Can be accessed and searched for on mobile, saving a lot of time
Standardized templates ensure OPLs are complete, quickly created, and of high quality
Information is always up to date; no risk of using outdated instructions; old versions are archived
Ability to standardize OPL templates globally to facilitate knowledge sharing with other plants
Improved compliance due to digital approval flows, audit trails and versions
Machine learning technology connects OPLs to issues for quicker problem solving
Related Articles