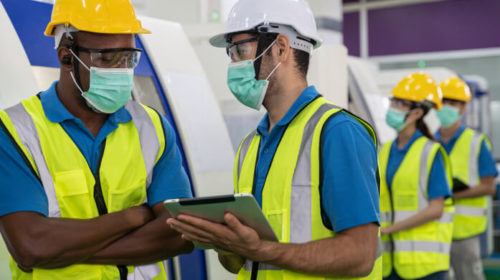 The

4Industry Mandala Release:

An Overview of the New Features
Discover the exciting new features of 4Industry's Mandala release, including a grouped task builder and dynamic sections.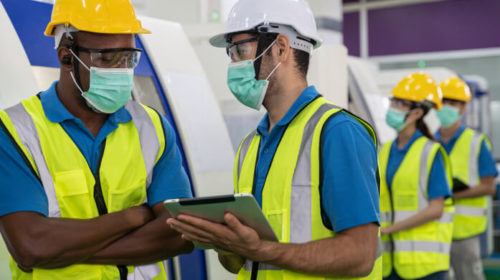 We're glad to be able to announce 4Industry's newest release: Mandala. We've been working full-steam these last few months on a host of exciting new features centered on expanding our Task Management capabilities. Here's a quick overview of Mandala's main features.
Curious about the release preceding this one? Read about it here.
Task Management
Task builder and executor
Many factories have daily schedules with tasks that have to be done. These are often huge Excel sheets hung on the wall called CIL lists. Working this way obviously has its downsides, which is why we've designed this great feature.
We're very glad to be implementing our dedicated task builder. In the Mandala release, the Management module has the new ability to bundle up subtasks into a grouped task. Grouped tasks can be connected to schedules so subtasks can recur in a defined rhythm – just like they do when you use a CIL list.
The major benefit of using this new task builder – which is part of 4Industry's core – is that it has the ability to leverage simple tasks as well as more advanced things like assessments (Smart Forms), jobs (step-by-step instructions) and even maintenance plans.
Our launching customers use this module to create a task plan per work area that includes all cleaning, inspection and lubrication (CIL) activities, maintenance tasks, safety and 5S assssments, and jobs. The single task plan gives a great, intuitive overview of everything that needs to be done on a daily basis in a particular area.
The builder goes hand in hand with an updated task executor that allows operators to execute a broad range of tasks in the same overview. Both features are straightforward and simple, just like we like it!
Dynamic sections
Some tasks consist of certain sub-activities: a safety investigation, for example, might require someone to do witness interviews. Creating these sub-activities used to be a quite circuitous process in 4Industry, but Mandala´s dynamic sections fix this by having an additional tab where you can see related tasks and request new tasks.
Assessment Management
Target questions
Let's move on from Task Management to Assessment Management. This will be short and sweet, but don't worry: our next release will be fully dedicated to Assessment Management!
Mandala brings you the ability to define what a good or bad outcome is for assessments. This can be a yes/no, multiple choice, or numeric question. This feature is part of a larger group of features aimed at helping you define what 'good' looks like.
Many assessments require one to determine if the outcome falls in a good, warning or dangerous level. Let's take the numeric scale slider as an example. If an inspection consists of someone registering the pressure on a valve, you can define that anything between 14-15 PSI is good, everything below that is not good, and anything above 20 is dangerous.
Increase mobile configurability
Configurable + button
Last but not least, we've implemented some neat improvements to make the mobile app more configurable. The Floating Action Button (FAB) – the circular + button on the central lower side of the screen – can now be used to trigger any kind of action.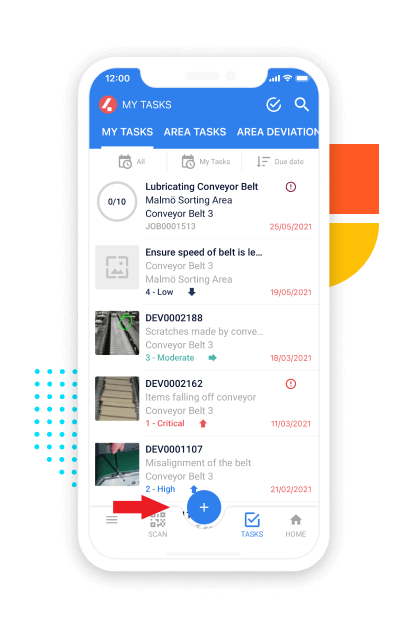 Before, the FAB was only used for registering deviations, feedback or safety issues. Now, you can configure the FAB to directly start a new RCA or any other kind of task.
Miscellaneous and future features
Lastly, Mandala brings some small changes like:
Support for iPad Mini tablets
The ability to set a status on work areas
Chinese language support
New synchronization options to sync new tablets to a mobile device
New reporting visualizations that change colors based on thresholds
We're already working hard on some new features that will go live this year. In the near future, our assessment module will be significantly expanded. We're adding, for example, a lot more question type variations for assessments, like sub-questions and additional questions.