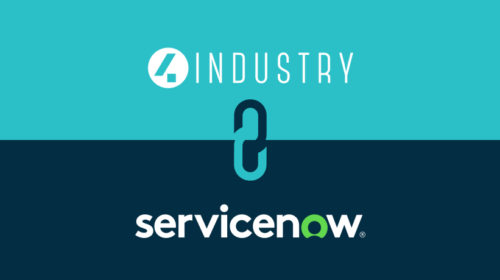 4Industry Announces

Expanded Partnership

with ServiceNow
Together with ServiceNow, 4Industry will help companies digitize operations to improve resilience, efficiency, and the employee experience.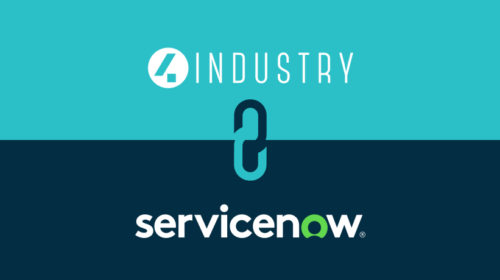 UTRECHT, THE NETHERLANDS– October 20, 2022 – 4Industry, the Connected Worker Platform for manufacturing, today announced an expanded collaboration with ServiceNow to help companies digitize their operations across the manufacturing value chain.
4Industry has partnered with ServiceNow since 2018, collaborating on, among other things, a go-to-market strategy for 4Industry. The expanded partnership will see 4Industry align their product portfolio to ServiceNow's manufacturing roadmap so as to provide companies with end-to-end digital manufacturing solutions to improve resilience, efficiency, and employee experiences. Practically, this will entail the integration of various ServiceNow modules and applications into 4Industry's Connected Worker Platform.
"The shift toward digitization is rapidly taking hold in the manufacturing industry, merging the physical and virtual in factories and creating an intricate manufacturing IT systems landscape," said Luc Raeskin, CEO of 4Industry. "The shop floor worker now has to navigate an increasing number of disparate systems, while using largely manual, paper-based tools to execute his day-to-day tasks. By applying ServiceNow's world-class digital workflows to a manufacturing environment, we can provide frontline workers with a mobile-enabled platform that contains everything they need on the shop floor. I believe this partnership with ServiceNow will accelerate our mutual mission to turn frustration into flow and make workers safer, happier, and more productive."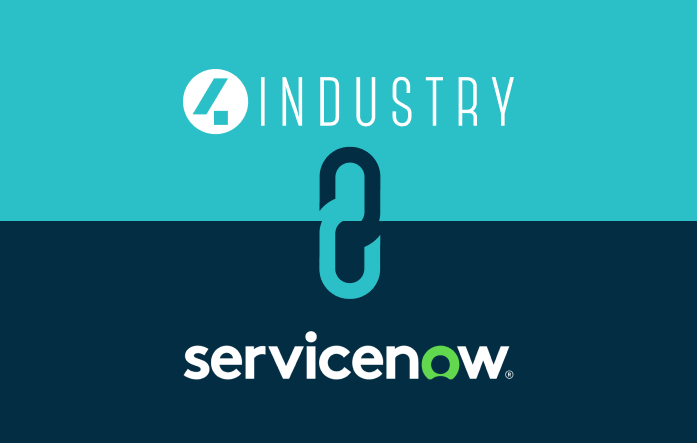 "The manufacturing sector is under intense pressure, challenged by supply chain disruption, economic slowdown, and a labor shortage. Leading organizations know they need to digitally transform to save on costs, increase overall equipment effectiveness, and improve employee experiences," said Allen Hackman AVP and general manager of manufacturing industry vertical at ServiceNow. "The 4Industry platform built on ServiceNow is the right solution at the right time to address these challenges, so companies can defend their margins and empower their workforce in a challenging economic environment. I could not be more excited about the value ServiceNow and 4Industry continue to bring to our joint customers."
Fortune Business Insights estimates that the market for Industry 4.0 solutions will exceed USD 375 billion by 2029¹. To guarantee a successful digital transformation, manufacturers need to empower their workers with digital workflows for a straightforward job execution and present them with actionable insights extracted from raw (IIoT) data. ServiceNow meets this need with its workflow capabilities and can help organizations cut costs, amplify continuous improvement, and attain world-class overall equipment effectiveness (OEE).
About 4Industry
4Industry connects people and machines. Our Connected Worker Platform—built on ServiceNow— gathers all the tools, forms, knowledge, and data manufacturing workers need to perform their job on an intuitive, one-stop-shop application. By putting the worker at the heart of the factory, 4Industry makes work more efficient, straightforward, and safe, thereby increasing OEE, productivity, and operational resilience. For more information, visit: www.4industry.com.
ServiceNow, the ServiceNow logo, Now, Now Platform, and other ServiceNow marks are trademarks and/or registered trademarks of ServiceNow, Inc. in the United States and/or other countries.
Contacts:
4Industry
david.oostenbrink@plat4mation.com
¹Fortune Business Insights, Industry 4.0 Market Size, Share & COVID-19 Impact Analysis, By Application (Industrial Automation, Smart Factory, and Industrial IoT), By Vertical (Manufacturing, Energy & Utilities, Automotive, Oil and Gas, Aerospace and Defense, Electronics and Consumer Goods, and Others), and Regional Forecast, 2022-2019.