A Complete Guide to the 8 TPM Pillars  
What are the 8 pillars of TPM?
The 8 TPM pillars are a set of actionable principles that form the fundament of total productive maintenance (TPM). The aim of the TPM pillars is to proactively maintain equipment and machinery, thereby improving their performance, dependability, and longevity.
The 8 TPM pillars are:  
Focused Improvement
Autonomous Maintenance
Quality Maintenance
Planned Maintenance
Early Management
Training & Education
Safety, Environment & Health (SHE)
Administrative TPM
In this blog, we'll walk you through all the ins and outs of the 8 TPM pillars.
Looking for an article about TPM in general? No worries. Check out this extensive post to learn everything you need to know about TPM!
Without further ado, let's explore the eight pillars of TPM.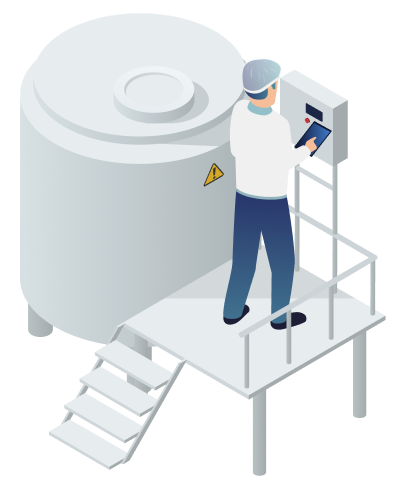 The 8 Pillars of TPM: an Overview
1. Focused improvement   
The Focused Improvement pillar is basically synonymous with Kaizen, the Japanese organizational philosophy focused on implementing incremental improvements. Characteristically of Kaizen, all personnel involved in production are encouraged to pay attention to, look for, and suggest improvements. The ultimate goal being, naturally, to reduce production-related issues and keep the line flowing.
Practically, Kaizen in TPM entails forming cross-departmental team that brainstorm about how to address issues related to machinery and equipment. These are called Kaizen events or Kaizen blitzes.
2. Autonomous Maintenance 
Autonomous maintenance enables operators to fulfil duties that would normally be performed by maintenance personnel. It stimulates frontline workers to take ownership of their machines and perform routine maintenance practices like cleaning, inspection and lubrication (CIL) tasks.
This pillar connects operators to their machines and allows engineers and maintenance teams to focus on tasks that require a higher level of expertise. Autonomous maintenance enables operators to detect faults early and tackle minor issues before they develop into large problems. Over time, implementing autonomous maintenance will have a big impact on shop floor performance.
3. Quality Maintenance 
This TPM pillar aims to reduce quality defects and, consequently, the need to rework defective products. The ultimate goal is to increase production efficiency, eliminate rework-related costs, and improve customer satisfaction. Defects can be managed through RCAs and by implementing preventative measures like digital production start-up checklists.
4. Planned Maintenance 
Breakdowns can be prevented by scheduling maintenance activities when a machine isn't scheduled for production. This ensures that maintenance has no impact on the flow of production.
Closely related to autonomous maintenance, this pillar lets operators perform maintenance tasks to free up time for maintenance and engineering teams.
5. Early Management  
This pillar enables a fault-free and smooth implementation of new equipment and machinery. By applying the knowledge gained through the application of other pillars (e.g. autonomous maintenance), the installation and start-up time can be lowered, while maintenance is done properly from the start.
6. Training and Education  
Naturally, investing in the continued education of operators and management will enable to manage the increasing complexity of modern machinery. This sixth pillar encourages managers to survey the capabilities in their factory. This gives them an overview of the present skill and enables them to make substantiated investments in training and education.
7. Safety, Environment, and Health (SHE)  
This pillar aims to create a workplace that is free of any hazards and safety risks. It can be corrective as well as preventive: Corrective actions fix something after it has happened, while preventive actions proactively look at possibly unsafe situations and mitigate them before they turn into an accident.
Next to the elimination of accidents from the shop floor, this pillar seeks to create a work environment that is healthy for its workers, both physically and mentally. Attention should be paid to issues like air quality, proper workload, available facilities and so on.
8. Administrative TPM  
Last but certainly not least, the Administrative TPM pillar includes aspects of an organization outside of the shop floor, like logistics and planning. It aims to apply the TPM philosophy to other processes within a business to, just like with equipment, eliminate waste and cut costs.