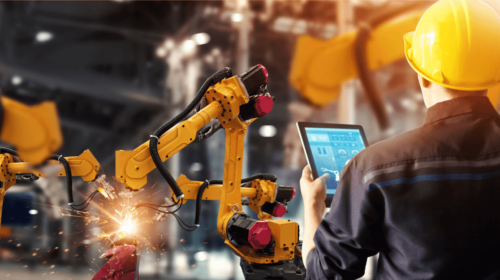 How IoT is Used

in Manufacturing

Explained in 4 Steps
The majority of IoT initiatives in manufacturing result in failure. In this blog, we'll explain what you can do to guarantee that your IoT project is a success.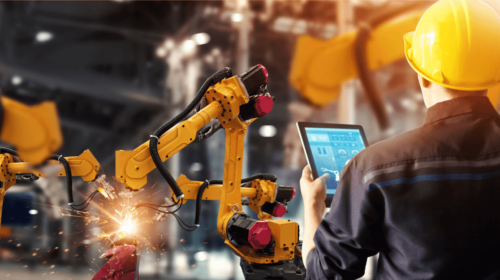 Manufacturers hardly ever succeed in their IoT initiatives. According to a survey done by Cisco, three out of four IoT projects result in failure. We've written this blog precisely because of that staggeringly high rate. In it, we'll concisely detail what you can do to make your IoT project a success.
In our experience, manufacturers often have problems turning their raw data in something intelligible and actionable. Our solution to this problem is to use a combination of an IoT data platform and a connected worker platform (CWP). In this blog, we'll guide you through the four steps of which a good IoT project should consist, and expand upon the properties of these key systems among the way.
This blog was written to explore the practical side of using IoT data. If you're looking to get more information on the exact benefits of using IoT in manufacturing, please refer to this page.

Making IoT data actionable: a 4-step solution
1. Define your aims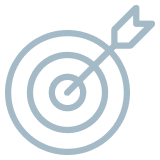 First things first: before any IoT initiative, you need to define the end-result you're striving after. This might seem a trivial point, but we believe that clearly defining what you're aiming to achieve, is key to IoT success in manufacturing. It is important to define your aims in concordance with end-users. If your IoT initiative is, for example, about monitoring and reducing energy consumption, everybody who has to do with the involved equipment and systems should be present in the early stages.
Let's say you often have problems with an oven's temperature. A good IoT initiative based on this situation could be concisely formulated in the following way:
a. I want to measure the oven temperature and compare it to its setpoint.
b. I want to turn that data into a legible format.
c. If the oven temperature is often above its setpoint, I want my operators to receive an automatic trigger to check on the oven and register a deviation.
d. I want to record the measurement history connected to the produced SKU, in order to identify which products are the most troublesome for the oven temperature.
Ensure that an IoT project is the right solution
Before you start off your IoT project, you should first try to understand why your current tools and processes are insufficient for working toward your goal. They may not be optimally functional because of various factors:
operators with insufficient understanding or knowledge
unclear or incorrectly defined processes
information that's unactionable or being ignored completely
An IoT project is not the correct solution to these issues. Instead, you might be better off investing in training your operators, or setting up clearer SOPs.
Get your IT and OT teams involved early
The involvement of both IT and OT teams is essential in any IoT undertaking. IT and OT teams, however, do not always work together in the best possible manner. There are often misunderstandings between the two, as each team operates in a distinct area.
Any successful IoT project depends on these teams cooperating smoothly. Your OT people will take care of things on the physical level, tweaking and installing equipment, while IT takes care of things on a more abstract level. It is paramount that both are involved from the start of the project, and that there is clear communication between the two to ensure mutual understanding.
2. Map your existing (IoT) data platform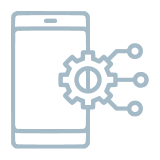 After defining your goal, it's time to start collecting data on the area you're focusing on.
Start internally
Before searching for an external solution to collect data, we recommend you look at your in-house systems to find out if they might contain what you need. Although many manufacturers don't realize this, MES, SCADA, DCS, Historian, EMS, APS, and LIMS systems are great sources of data. Your solution for data collecting could therefore already be under your own roof.
Even though these systems have a different general purpose, some of them could actually provide data that can be used to generate alerts when a threshold is exceeded. Those alerts are, however, stuck in the system and consequently difficult to act upon. If you switch to a connected worker platform (CWP), as we'll explain in more detail below, system alerts can be turned into notifications on smart devices that your operators carry around.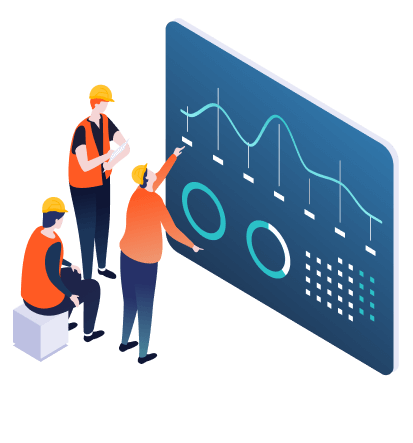 The properties of a good IoT data platform
If you find out that the information you're looking for isn't available because it's contained in an old system – and therefore isn't measured properly or not measured at all – you may be in need of an IoT data platform. You'll usually need the following pieces in your IoT stack:
A sensor device that collects sensor data, and can be retrofitted to an existing machine without impacting it
A gateway server that manages the configuration, updates, and security of all sensor devices, and puts received sensor data in a database
A rules engine server that can detect issues by using thresholds or mathematical models, and that sends triggers to a system of action
A system of action that transforms triggers into contextualized information, and applies business logic, and other rules, to send this information to the right people along with suggested actions
3. Find a system to make data intelligible and actionable
Turning the large amount of raw data that's hidden in your equipment into a concrete, comprehensible format, will open up doors to all kinds of improvements. But in order to profit from your data, you'll also need to have people who are knowledgeable enough to understand, interpret, and act upon it.
What a CWP does with IoT
Working with a connected worker platform (CWP) is, in our opinion, a sure-fire way of helping your IoT initiative be successful. A CWP is an Industry 4.0 technology that can contextualize data and turn it into actionable triggers. It can connect with your IoT data platform to transform thresholds into meaningful contextualized data. This is achieved by using all of the aggregated master data in the platform to connect the dots between sensors, equipment, areas and processes, and then sending notifications, coupled with suggested actions or useful reports, to operators equipped with smart devices.
Working with a CWP will also feed your deviation database, and thereby help you get perspective on how your equipment is performing. Having an accurate and extensive equipment history will be of tremendous help with getting perspective on frequently occurring problems. You can detect and respond to errors that would normally have been ignored, or passed by without being noticed at all.
4. Go from corrective to predictive actions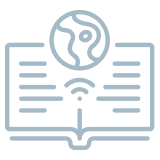 Because of the contextualization of data described above, operators can receive notifications telling them to perform a corrective action like a deviation report. In order to help operators swiftly resolve an issue, these notifications can be paired with knowledge articles or standard operating procedures (SOPs).
The power of prevention
A proper IoT data platform can, however, also trigger a preventive action like a checklist or an inspection. By using historical and contextualized data, it is possible to train machine learning algorithms to understand where something has gone wrong without thresholds rules being activated. This will allow you to uncover problematic patterns, and help you find out which products are causing the most equipment issues.
CWP: the bigger picture
Switching over to CWP-supported manufacturing has many benefits that extend beyond IoT. 4Industry's CWP also has functionalities that support task management, knowledge management, and Environment, Health and Safety. If you're considering implementing a CWP in your factory, we highly recommend you look at the bigger picture, and not solely focus on IoT.
Related Articles