Skill Management
A 360-degree view of skills, skill levels, and certificates
Create a comprehensive overview of your employees' roles, skills, and certificates. Ensure tasks are done by qualified personnel, guarantee compliance, identify skill gaps, and improve quality and safety.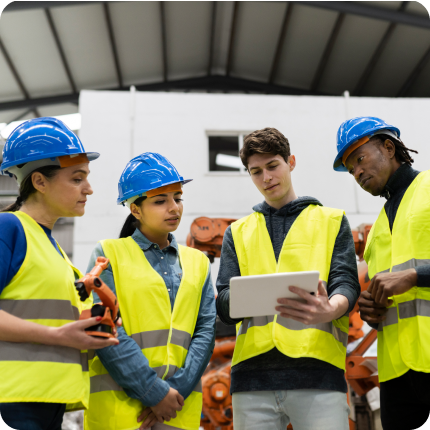 Managing paper takes skill…
To ensure compliance, safety, and quality on the shop floor, it is paramount to select the most qualified operator for each task.

Unfortunately, in most factories, skill levels and certificates are tracked using Excel sheets or paper.

This increases the risk of noncompliant behavior and safety hazards.
Luckily, digital tools can replace these risks with benefits.
…digital tools create clarity
4Industry's Skill Management software creates a 360-degree view of your employees' skills and certifications.

With our intuitive skill matrices, supervisors can quickly identify each operator's qualifications and select the best person for a given task.

This functionality also enables supervisors to track whether their operators possess the required skill levels for their job, eliminating the risk of noncompliant behavior.
Digital Skill Management in action
Our tool enables supervisors to define job roles with their respective skills and certifications.
These requirements can be linked to tasks, ensuring they are always done by the right person.
Matrices are created from a single data source and are easily configurable, allowing safety and quality teams to create matrices that are relevant to their area.
An expiration date can be added to each certification to ensure that employees can update their certifications in time, thereby ensuring compliance.