Changeovers & SMED
Reduce changeover time by standardizing setup procedures
Eliminate guesswork and reliance on tribal knowledge by using media-rich work instructions to standardize changeover procedures.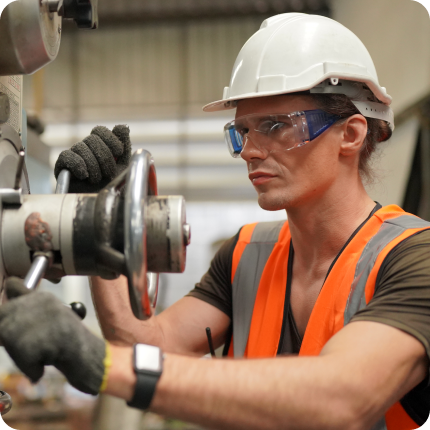 Analog methods waste time…
In the majority of factories, operators still rely on tribal knowledge to perform changeovers.
However, as every operator has their own method of doing a changeover, mistakes are inevitably made.
This leads to wasted time, increased safety incidents, and suboptimal product quality.
…why not change over to digital?
A Connected Worker Platform eliminates these problems by standardizing setup procedures with media-rich work instructions.
Operators can now have detailed, step-by-step instructions in the palm of their hands, containing information on materials, safety requirements, and LOTO procedures.
Furthermore, Connected Worker technology enables you to convert internal setup activities to external ones, allowing you to achieve world-class SMED and uptime.
Digital changeovers in action
4Industry's drag-and-drop Knowledge Builder simplifies the creation of step-by-step work instructions. You can embed multimedia, including videos, pictures, and PDF documents, to ensure that execution is easy for every operator, regardless of experience.
Steps can be assigned prior to a changeover to reduce internal setup activities. Additionally, the system ensures that operators complete a step before moving on to the next, reducing mistakes.
Finally, 4Industry includes safety requirements and LOTO procedures in work instructions to promote safe behavior on the shop floor.