Assessments
Unlock the power of digital assessments
Complete assessments using a smartphone and contextualize them with pictures, videos, and comments. Capture and automatically process data straight from the shop floor.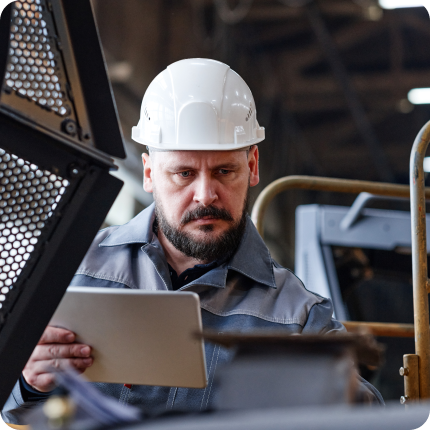 Analog assessments are error-prone…
Paper-based assessments are time-consuming, error-prone, and inflexible.

Incomplete entries and illegible handwriting can lead to unreliable results, inaccurate data, and possible compliance risks.

Moreover, many operators find paper-based assessments tedious. This is no surprise, as dealing with paperwork and performing manual data entry is repetitive and time-consuming.

Fortunately, the paperless revolution in manufacturing has arrived.
…a platform provides precision.
A Connected Worker Platform like 4Industry allows you and your operators to create, assign, and complete assessments from a standardized, shared digital environment.

By digitizing your assessments, you can reduce the administrative workload on your operators, allowing them to be more efficient and perform value-added work.

Moreover, the system ensures completeness by requiring all mandatory fields to be filled. Additionally, assessments become a powerful data-capturing tool, with all data automatically processed in the system, contextualized with notes, images, and videos.
Assessments in action
Assessments can be easily created using 4Industry's intuitive builder, and operators can complete them using a smartphone or tablet device.

Each assessment contains the necessary safety information like LOTO level and any knowledge articles needed to complete the job.

Assessments can be contextualized by operators by adding notes, images, and videos. Follow-up tasks can be created directly from the assessment form.

All assessments are stored in 4Industry's central database, creating a permanent record with full traceability.